Pet & Family Portrait Sessions
As a pet lover you know pets each have their own unique personality and touch our lives in precious ways . That's why I want to provide you a photo session with your pets so you can included them in your most treasured family memories for years to enjoy. You will be able to choose from a variety of products to display and share with your family and friends

.
Creative Portrait Sessions Include 
A phone and or in-person consultation to discuss your pets and what you desire from your photo session prior to scheduling your pet portrait session.
Approximately 1+ hour portrait session at your home or other predetermined location. Length of pet portrait session may vary depending on your pets and their mood that day. Patience is a virtue. 
A Zoom viewing session within one to two weeks of your portrait session. Most session types yield approximately 20–30 of the best photos from your pet portrait session. 
Call or email for pricing information. No high pressure sales, just a friendly honest discussion of your expectations and how I can best serve your needs. 
For more details, or to schedule a session call 773-612-9435 or email here with your questions. I look forward to hearing from you!
Gallery wraps are printed on canvas with a protective matte coating. Back is finished with black paper, corner bumpers and hanger.
Framed prints 11 x 14 and larger are mounted on hard board and finished with black paper and wire hanger. Prints of all sizes are printed on high quality photographic paper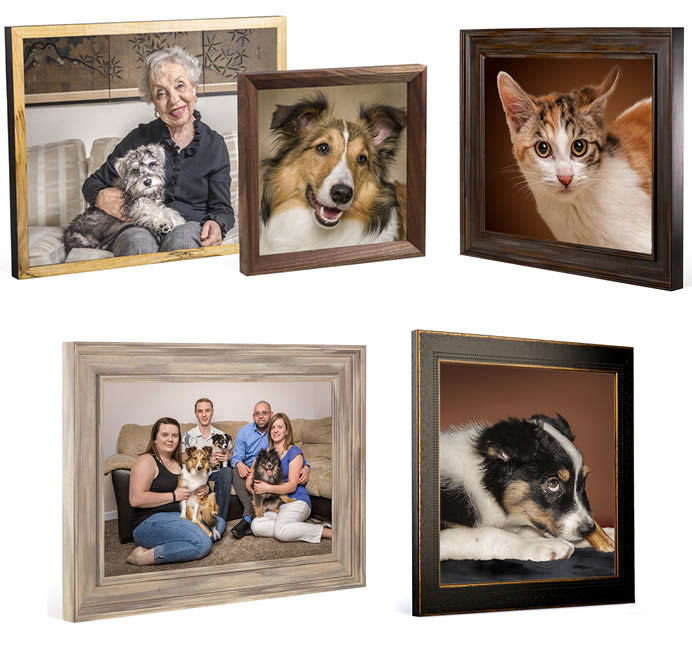 Gift Prints

(8x10 and smaller)
Framed gift prints come with the option of an easel back stand.